What papers do I need when I start a divorce case in Florida?
Apr 21, 2023
Divorce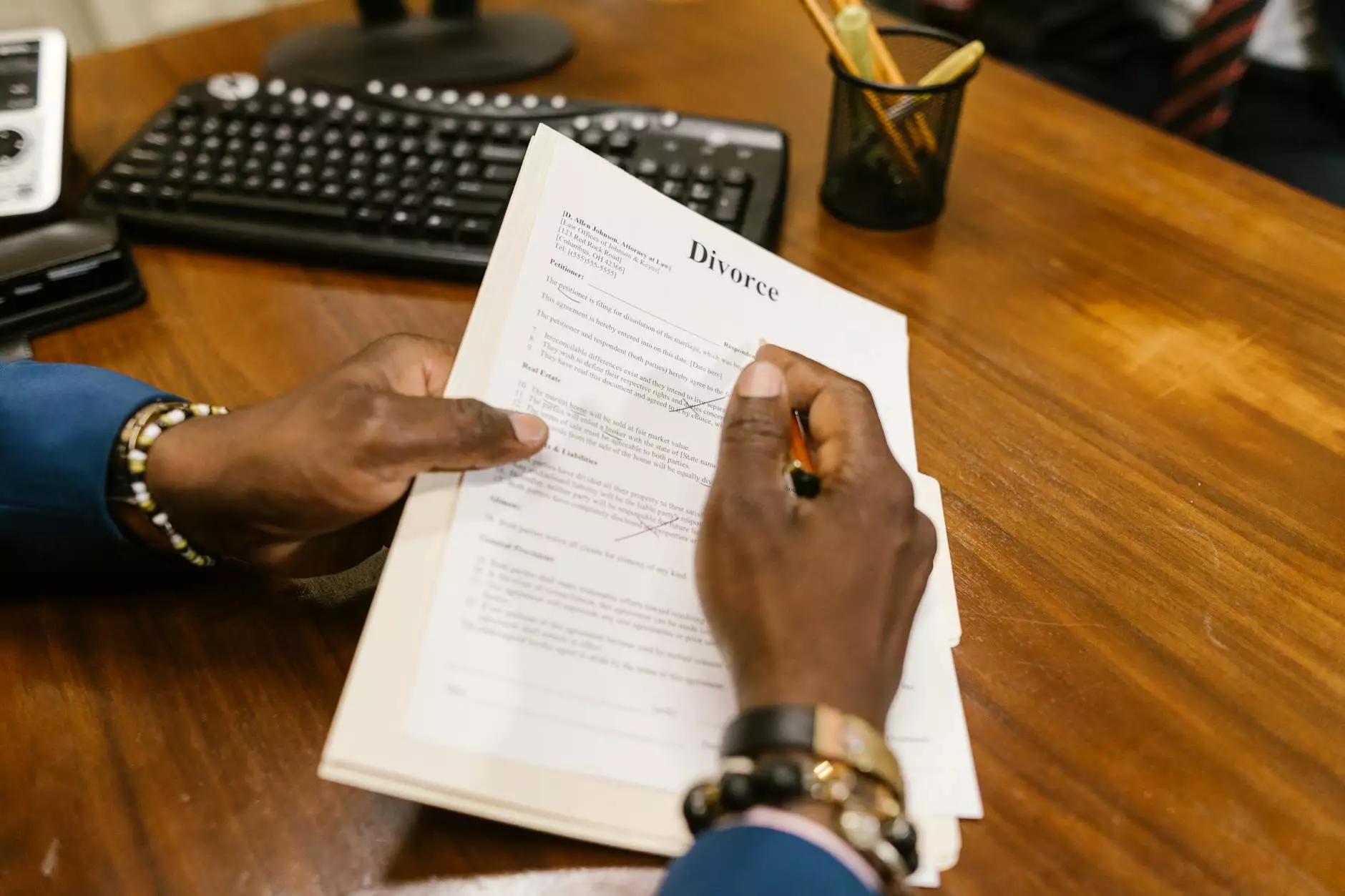 Welcome to John Hugh Shannon, your reliable resource for all your legal needs in Florida. If you are considering starting a divorce case in Florida, it is essential to understand the necessary papers and documentation required to initiate the process smoothly.
1. Petition for Dissolution of Marriage
The first vital document you will need is the Petition for Dissolution of Marriage. This document officially requests the court to grant you a divorce. It outlines key information about your marriage, such as both parties involved, any children, property division, and alimony requests.
2. Summons
Along with the Petition for Dissolution of Marriage, you must also include a Summons. The Summons acts as an official notice to your spouse that legal proceedings have begun and that they are required to respond within a specific timeframe.
3. Notice of Social Security Numbers
In a divorce case, both parties are required to disclose their social security numbers. This information is crucial for certain legal processes, such as child support calculations and asset division.
4. Financial Affidavit
A Financial Affidavit is a detailed document that provides a comprehensive overview of your financial situation. It includes information about your income, expenses, assets, liabilities, and any outstanding debts. This affidavit is crucial for determining spousal support, child support, and property division.
5. Child Custody and Visitation Forms
If you have children from the marriage, you will need to complete child custody and visitation forms. These documents outline your preferences for child custody arrangements, visitation schedules, and decision-making authority. Ensuring the best interests of the child are prioritized is of utmost importance in these forms.
6. Marital Settlement Agreement
A Marital Settlement Agreement is a mandatory document in a divorce case. This agreement outlines how you and your spouse have agreed upon various issues such as child custody, visitation, child support, alimony, property division, and debts. It provides a clear roadmap for resolving disputes and finalizing the divorce.
7. Parenting Plan
When children are involved, a Parenting Plan is required. This plan outlines each parent's responsibilities and includes details regarding child support, visitation schedules, decision-making authority, and any other relevant factors. It is crucial for maintaining a healthy co-parenting relationship and ensuring the children's well-being.
8. Certificate of Compliance with Mandatory Disclosure
In divorce cases, both parties are required to provide mandatory financial disclosures. The Certificate of Compliance with Mandatory Disclosure certifies that you have provided all the necessary financial documentation. This form ensures transparency and fairness throughout the divorce process.
9. Final Judgment of Dissolution of Marriage
Once all the required documents have been submitted, and all necessary hearings have taken place, the Final Judgment of Dissolution of Marriage is issued by the court. This document formally terminates the marriage and outlines the final decisions regarding child custody, visitation, support, and division of assets.
Properly completing and submitting these documents is crucial when starting a divorce case in Florida. However, it's important to note that divorce proceedings can be complex, and seeking legal assistance from an experienced family law attorney is highly recommended. At John Hugh Shannon, we specialize in divorce cases and can guide you through each step of the process, ensuring your rights and interests are protected.
For more information or to schedule a consultation, please contact us. Our dedicated team is here to provide you with the exceptional legal support you deserve.